[Page 1766] -

ELEAZOR ADAMS, was a sister of Rev. David Jackson of Dorset, Vt. (a Presbyterian Minister whose daughter, Margaret Graves Jackson, married Mr. Hamlin, first missionary to Turkey). She was married first to Seth Allen, brother of Ethan Allen of Ticonderoga fame. Her second husband, Daniel Adams, was an older brother of President John Adams. Her husband having deceased, she came in 1818 with her sons Philo Adams (see Pioneer, page 1578) and his wife Lurena Baldwin to Milan, where she later died and was buried in the old Huron Cemetery.

DR. WILLIAM V. AMES, was born in New Haven Township, Dec. 24, 1821, and died in Fremont, Ohio, Nov. 5, 1909. He was a son of Jason C. Ames of Connecticut, and Sarah Ann Ames of New York, among the earliest settlers of Huron Co. He attended district school in New Haven Township and graduated from Western Reserve. He and medicine with several of the early practitioners of the county and commenced the practice of his profession in South Bend, Ind., in 1845. In 1851 he went overland to Yuba, Cal., where he practiced medicine and mined gold. In 1855 he returned and located in Seneca County, and a few years later went to Fremont where he practice his profession successfully until his last illness.

HENRY STEWART ARNERT

[Page 1767] -

ROBERT ARTHUR

SAMUEL ARTHUR

MRS. JOSEPH AMES

MRS. ASHLEY A. BARRETT

JAMES BARNES

[Page 1768]

WILLIAM BARNARD

MRS. EVA C. BAECHLE

CHAS. E. BAKER

GEORGE BAKER, a resident of Toledo for half a century and pioneer street railway builder in that city, died Apr. 21, 1910, at his residence, 329 Chestnut Street.
Mr. Baker was born in this city. He is survived by four

[Page 1769] -
daughters, Mrs. George S. Mills, Mrs. E. L. Jamison, Mrs. F. L. Bonner and Mrs. D. B. Patterson, the latter a resident of Massena, N. Y.

WILLIAM BAKER


[PORTRAIT OF WILLIAM BAKER]

[Page 1770] -

[Page 1771] -
the approval of his judment, that financial support and assistance which seems more efficient in building up a city than any amount of loud talk or even earnest good wishes.

JOHN BAKERSTOCK

ANDREW BAECHLE

J. M. COLE

MRS. ELMIRA CONSIDINE

[Page 1772] -

HANNAH R. BAKER

AMANDA GARDNER BARBER

THOMAS E. BEACH, born Bronson, Sept. 29, 1831, married Emily Forgerson, Sept. 12, 1856, who died June 10, 1910, died Apr. 18, 1912, leaving one son, Fred L. Beach, who married Bertha, daughter of Col. Seth M. Barber.

IRA BECKWITH, born Bronson, Feb. 19, 1833, where he spent the greater part of his life. Died in Fitchville at the home of Ira Springstead, Sept. 5, 1910.

ELI J. BEECHER, born Bridgewater, Conn., Oct. 16, 1830, moved to Ohio with his parent when six years old, married Mrs.

[Page 1773] -
Jane R. Deaton of Florence, June 13, 1858; died in Florence, Mar. 29, 1911, leaving four sons and one daughter, Everett and Herbert E., of Wakeman; Elmer C., Georgiana, Fla.; W. L., of Cleveland, and Mrs. William Erswell, of New London, Ohio.

HORACE J. BEECHER,

JOHN T. BEECHER

NATHAN BEERS

DANIEL K. BENSON

JOHN BENTLEY, born Florence Township, June 4, 1830, married Dec. 28, 1853, to Jane A. Miller who died July 11,

[Page 1774] -
1904. He died Apr. 26, 1910, leaving one son and three grandchildren.

MARGARET BENTLEY

CLARKE S. BERRY,

CORNELIA CAROLINE, BEVIER

WILLIAM HARRY BISHOP

SARAH BISSELL

MARY A. DAVIS BLAKEMAN

[Page 1775] -

BENJAMIN F. BOND

HARRIET A. BOSS

MARY BOTSFORD

ABIGAIL C. BOTSFORD

ELON G BOUGHTON

[Page 1776] -

LUCIUS BOUGHTON

ELIZA-PERRY BOWEN

ANNA J. BRAILEY

HANNAH M -WILBUR BROWN

ELLEN B. BROWN

JOSEPH BURGER

[Page 1777] -

FLORINDA-MOFFIT BURLINGHAM

WILLIAM LAWRENCE BURRAS

LEVI CABLE

BETSY ANN CARLETON

LEONARD E. CARPENTER

[Page 1778] -

JOHN CARTER, son of William and Abigail Blackman Carter, born June, 1880, came with parents in Florence in 1818, married in 1804 Mary Derenier to whom were born nine children of whom three: John, Charles and William, survive. He died in Florence in March, 1877.

WILLIAM CARTER, JR.

BOWEN CASE

HELEN EATON CLAPP

DAVID HAMILTON CLARK

[Page 1779] -

DR. PHILO HENRY CLARK

LAURA A. CLARY

MARY A. CLEMENS

JOHN CLINE

[Page 1780] -

SANFORD COBB

ASHER M. COLE

CASIMER P. COLE

THOMAS CONE

ISABELLE-LOWTHER CONGER

[Page 1781] -

MARY A. CORWIN, daughter of Mr. and Mrs. Timothy Baker, born in Herkimer Co., N. Y., Aug. 21, 1817, came with her parents to Norwalk, 1819, married Sept. 3, 1840, Rev. Ira Corwin. Mrs. Corwin was one of the benevolent workers of the city and one of the promoters of The Huron County Children's Home.

WYATT COOKE

SILAS E. CRAWFORD

HANNAH CULP

ELSIE JANE-KNAPP CURRAN

[Page 1782] -

DELIA CURTIS

ELIZABETH JANE DAILEY

HANNAH DARBY

GEORGE M. DARLING

ELIZA DAVENPORT

SARAH ELIZABETH DENTON

[Page 1783] -

DESDEMONA DIMON

JOSEPH DUFFNER

HARRIET LOCKWOOD EDDY

[Page 1784] -

REV. EZRA S. EDWARDS

LUCINDA EDWARDS

CORNELIUS ELLIS

MOSES DEWITT ENNES

WILLIAM MASON FANNING

[Page 1785] -

SARAH E FEWSON

MRS. BETSEY RUNDELL FISH

O. D. FISH DEAD.
Was Former Resident of Norwich Township - Brother of Mrs. J. P. Lawrence of this City.

Word was received by Mrs. J. P. Lawrence from Los Angeles, Cal., stating that her oldest brother, Orestes Dunning Fish, died in that city on Monday, Feb.1, 1909.
Mr. Fish was born in Norwich Township, Huron County, and was the son of George and Cynthia Dunning Fish, who were for twenty-five years residents of this county, coming here from Central New York in 1840. His home has been in

[Page 1736] -
California since 1885, where he has been a very successful business man. His wife, who survives him, was Miss Mary Jenks, and was born in Milan, Ohio.
Besides the sister in Norwalk Mr. Fish has two other sisters: Miss Ella Fish and Mrs Lora Congdon, and one brother, Herbert H. Fish, all having homes in Berkeley, Cal.

SMITH FLETCHER

CHESTER WEED FLINN

CYNTHIA M. FOX

LLEWELLYN W. FRENCH

[Page 1787] -

CAROLINE GALLAM

MARY GALLAM

ELECTA EUPHRASIA GALPIN

[Page 1788] -
Galpin passed away Aug. 25, 1893. Later Mrs. Galpin moved to Albion with Mrs. White and family

JOHN GARDINER, is dead. Huron County's venerable pioneer banker passed peacefully away Apr. 14, 1915, in his 99th year of age


[PORTRAIT OF JOHN GARDINER]

He was born Sept. 15, 1816, at Gardiner's Point, or Millstone Point, New London County, Connecticut. He was a descendant of Sir Thomas Gardiner, knight of the County of Kent, England, whose youngest son, Joseph Gardiner, came to this country with the early settlers and took up his residence in

[Page 1789] -

[Page 1790] -

[Page 1791] -

[Page 1792] -

[Page 1793] -

EDWARD GEYER

[Page 1794] -

CORNELIA GIBSON

SARAH ELIZABETH GIBSON

FRANK GOODNOW

CLARA BROWN GOODNOW

MRS. KATE GOODNOW

[Page 1795] -

MRS. WARREN GREEN

ALVIN BUSHNELL GRIFFIN

[Page 1796] -
Jane D. Griffin, Mrs. R. L. Prechtel and Walter H. Griffin, all of this city. One sister, Mrs. Hattie Bartlett, of Stackville, Neb., also survives. An only brother was Orrin S. Griffin, former treasurer of Huron County, who died several years ago.

JOHN HAISE

EDWIN HAISE

GEORGE AUGUSTUS HAISE

EDWIN D. HANFORD

EBENEZER BLAKE HARRISON

[Page 1797] -
Root, served in Co. B, 123d O. V. I., conducted a bakery on Whttlesey Ave. for many years, died June 14, 1913, leaving his wife and one daughter, Emma, wife of Cort M. Schock, and three grandchildren.

J. M. HARKNESS RECEIVES WORD OF BROTHER'S DEATH

J. M. Harkness received a telegram Wednesday telling the death of his brother, H. O. Harkness, at his home in McCammon, Idaho, April, 1911.

H. O. HARKNESS

ELIZABETH HAWKS

L. CORTLAND HELLER

[Page 1798] -

REV. THOMPSON F., HILDRETH, . D., A. M.,

[Page 1799] -


ALVIN HILL

[Page 1800] -

MARY HINDLEY

MRS. NANCY HINE

LEANDER HINMAN

HINDMAN

[Page 1801] -
Geo. W. Hinman, on the Pacific Coast, and Rev. Herbert J. Hinman, of Albion, Neb.

FRANK HOLMES

SAMUEL HOLMES

HULDAH MATILDA HOOD

EMMA E. HOOKER

PETER HOWE

PHEBE FINCH HOYT

[Page 1802] -

WILLIAM B. HOYT

FRANK HUMBEL

WILLIAM M. HUSTED

WILLIAM HUTCHINSON

EMMA L. HYDE

[Page 1803] -

EUGENE L. JACOBS

DAVID C. JEFFERSON

HESTER PAUL JENNEY

MORDECAI W. JENNEY

[Page 1804] -

JOHN SUMMERFIELD JENNINGS

ANNA JEWETT

CATHERINE JOHNS

CELILA KEELER

[Page 1805] -

ISAAC M. KEELER, a son of Erie Keeler, died at his home in Fremont, Feb. 17, 1907, aged eighty-four years. He was born in Norwalk, but live in Fremont for many years. He was editor and publisher of the Fremont Journal for more than


[PORTRAIT OF I. M. KEELER]

fifty years and was postmaster at Fremont during Zachary Taylor's administration. Samuel, Lucy and Sarah Keeler, of Fremont are his children. See Pioneer 1909 p. 1601.

WILLIAM BETTS KEELER, second son of Eri and Sally Keeler, was born in Norwalk, Ohio, Feb. 20, 1828. The place of his

[Page 1806] -
birth was the old Tift lot, just north of the present site of Taber's Store on Mechanic Street - Whittlesey Avenue
The day he was one year old his parents moved into their own new house just across the street. In 1828 Norwalk was incorporated as a village and Mr. Keeler was one of the sixty nine voters at its first election. William's first school teacher


[PORTRAIT OF WM. B. KEELER]

was Miss Sarah Mason, in the little red school house at the top of the hill, where the Nicolls Block now stands. He also went to Mr. William Dininger, in the same building, and later to Mr. John Foster and Mr. John Kennan. When sixteen years old he left home to learn a trade, as boys were expected in those

[Page 1807] -
times to have one. He said good-bye to his loved home and started off on foot toward the city of Cleveland. At that time the only public conveyance of the stage coach which ran between Toledo and Cleveland. Norwalk station was the Mansion House. "Obediah Jenney, Landlord." The horses were


[PORTRAIT OF MRS. W. B. KEELER]

changed there and Mr. Keeler's home being near by William knew all the drivers. Being overtaken by a coach the driver offered a seat beside himself and thus he made his first entry into Cleveland, which became his home for six years. The boy went into the shop of "Mr. Wm. Goodwin, Saddle, Harness and

[Page 1808] -

[Page 1809] -

MRS. WM. B. KEELER

LON KEELER

[Page 1810] -

MARY KILBURN

JOSEPH SMITH KING

MRS. HIRAM KING

[Page 1811] -

CHARLES A. KING

GEORGE WASHINGTON KNOWLTON

JOHN S. LAUGHLIN

ANNA M. LAUGHLIN

GEORGE LAWRENCE

REV. GEORGE EDWARD LEONARD

[Page 1812] -

JOHN R. LEWIS

J. P. LINK

[Page 1813] -

MRS. SARAH LOCKWOOD

MRS. ELIZABETH LUTEMAN

W. A. MACK

[Page 1814] -

GEO. WILLIAM MALLETTE

[Page 1815] -

CHARLES W. MANAHAN

WILLIAM A. MANAHAN

JOSEPH A. MANAHAN

THOMAS MANAHAN

[Page 1816 -

WILLIAM RILEY MANN

DR. EDGAR MARTIN

S. ANTOINETTE KEELER MARTIN

SARAH ANTOINETTE KEELER, daughter of Eri and Sally Keeler, was born May 2, 1830. Her early life was spent in Norwalk. She was married to Mr. Nelson E. Martin Apr. 14, 1853. Moved

[Page 1817] -
to Cleveland in 1860 where Mr. Martin was in service of the L. S. & M. S. R. R. For many years he acted as wreck master for that road. He worked for this road for nearly fifty continuous years. In April, 1853, they celebrated their golden wedding, and May 15, 1853, Mrs. Martin passed out of this life. Her remains were brought to Norwalk and laid in the old cemetery back of Episcopal Church.

CALVERT AUGUSTUS MEAD

WILLIAM M. MEAD

DR. WILLIAM H. MERRITT

[Page 1818] -
Dr. Merritt was an active, forceful and leading citizen, always cheerfully doing his part.


[PORTRAIT OF W. H. MERRITT]

At the time of his demise he was a member of the Citizens Bank Directory, Knights of Pythian and of the Presbyterian Church.

ALMIRA S. MILES, daughter of Samuel Sherman, born Norwalk Tp., Mar. 13, 1839, married Mar. 10, 1861, Sylvester Miles, and resided in Hartland and Townsend Tps., where he died 1800. She came to Norwalk 1903 and made her home on

[Page 1819] -
Townsend Ave. where she died Jan. 9, 1911, leaving two daughters, Rosa D. of Norwalk, and Mrs. W. A. Rose of Hartland.

MARY L. MILLER

MRS. NANCY MILLER

MRS. LUCINDA C. MITCHELL

HENRY S. MITCHELL, was born in Mount Vernon, Knox Co., Ohio, Sept. 7, 1837, son of Mathew H. and Anna Sparrow Mitchell, and died at Norwalk, Ohio, Nov. 10, 1914, aged 77 years.
His grandfather, Samuel Sparrow, was a pioneer of Lyme Township, and one of the eighteen organizers of the "Parish of Saint Paul's Episcopal Church of Norwalk, Ohio," Jan. 20, 1821.
Mr. Mitchell was a graduate of Kenyon College; studied law and was admitted to the bar in Mt. Vernon.
In 1861 he established a law office in Norwalk adn from

[Page 1820] -
that date became an active, influential and respected figure in business and social life of Norwalk.
Feb. 4, 1862, he married Miss Delila, eldest daughter of Mr. and Mrs. Moses Yale, of Norwalk, Ohio, who with an only daughter, Mrs. E. T. Brown, nee Mary Mitchell, with two


H. S. MITCHELL

grandsons, one granddaughter and one sister, Mary, of Norwalk, survive him.
At his demise he was and long had been a Knight Templar; member of the Huron County Humane Society; life member of The Wittlesey Academy of Arts and Sciences, its Secre-

[Page 1821] -
tary, member of its board of trustees and executive committee; member of The Young Men's Library and Reading Room Association, its trustees and executive committee; member and clerk of the Vestry of Saint Paul's Church for many years. He had served as City Clerk, City Solicitor and for many years and until his decease, as Justice of the Peace of Norwalk.

E. JACKSON MOFFIT

G. W. MORSE

ORRIN W. MUNGER

WILLIAM RILEY McCONNELL, son of James and Margaret McConnell, born Belfast, N. Y., Dec. 17, 1825. Came with his parents by wagon to New London Tp., 1833. There were then only two houses in New London Village. They bought 56 acres at $5 per acre. William married Feb. 26, 1852, Lydia L. Carvey, daughter of William and Eunice Carvey, pioneers, born May

[Page 1822] -
3, 1833, and died Feb. 17, 1903. He died in Rochester, Lorain Co., Dec. 30, 1913, leaving four children: Stewart, Edwin, Etha and Nellie

CHARLOTTE McDONALD

ISAAC McKESSON

Page 1823] -

HENRY C. NICKERSON

ELIZA BOTT NORTON

DEWITT C. NORTON

ANTHONY OATS

Page 1824] -

CHARLES H. OLDS

EURETTA C. OLNEY

MAJOR HARTWELL OSBORN

HARTWELL OSBORN

Page 1825] -

PRESTON PALMER

ALEXANDER PARKER

Page 1826] -
J. D., Frank, Anna and Dollie. The father, Ormel Parker died in Florence July 5, 1865.

GEORGE W. PARKER

JOHN PARROTT

NELSON PARSONS

DELANO R. PATRICK

JARMAN, PATRICK

Page 1827] -

MALCOM PATRICK

EMILY PERRIN

JOSEPH PERRIN

ADELIA ANN PELTON

Page 1828] -
MRS. ELIZA G. PERSING

JOHN S. PEIRCE

STEPHEN POND

ASAHEL ASHLEY POND

Page 1829] -

GILMAN BRYANT POND

WILLIAM H. POST

CATHARINE LOUISE PRENTISS

WILLIAM STUART PROSSER

MARY C. RANDOLPH

Page 1830] -

ABIGAIL READ

MRS. PHOEBE REDFIELD

DAVID HENRY REED, M. D.

Page 1831] -
Sandusky, Metta, wife of Probate Judge Arthur E. Rowley, and Fannie.

EDWIN REED

HUSTED E. REED

ROSE A. REED

MRS. GEORGIANA REXFORD

MARY ELIZA RICE

THEODORE RICKEY, born Sussex Co., N. J., Jan. 24, 1835,

Page 1832] -
came with his parents to Monroeville 1843, enlisted Co. A, 3d O. V. C., discharged 1864, married Feb. 1, 1870, Eliza Gilbert and settled near Clyde, died Clyde Mar. 10, 1912, leaving his wife and one adopted daughter, Mrs. Alice Ferkel of Clyde and four sisters: Mrs. Sarah Gilmore of Rochester, Ill., Mrs. Hanah Rowcliffe of Princeville, Ill., Mrs. Emma Boughan of Jackson, Mich., and Mrs. Ella Briggs of Lima, N. Y.

CHESTER ROBBINS

ELISHA ROBINSON

A. G. ROE, born in Peru Apr. 14, 1850, died on farm where born Apr. 5, 1913. He was the only child of Mr. and Mrs. Joseph Roe, and leaves surviving a widow, one daughter Anna G., and one son, Ryerson.

HARRIET C. ROE

FANNIE M. ROGERS

Page 1833] -
walk, two sons, Fremont and Dayton of Emporia, Kans. One son, Frank W., died in Findlay, O., Dec. 18, 1910. There are also five grandchildren and three great-grandchildren.

LEVI ORAN ROWLAND

SOPHIA ROWLAND

JOSEPH RUFFING

CORDELIA M. SAFFORD

Page 1834] -

CHARLES M. SANDERS

MRS. CAROLINE WILHELMINA SCHULTZ

HARRIET A. SCOTT

MARY A. SCOTT

CHRISTOPHER S. SHAFFER

DAVID SHAFFER

Page 1836] -


MARY ANN SHELTON

CYRUS WILBUR SHERMAN

SALLY SHERMAN

GEORGE SIMMONS

JOHN SIMMONS

Page 1837] -

MRS. SARAH SIMMONS

SIMONS

SUSAN M. SIMPSON

ROBERT SLY

HORACE TURNER SMITH

Page 1838] -

JOSEPH SMITH

SARAH SMITH

AMELIA SOUTHARD

JOSEPH SPAULDING

Page 1839] -


PETER SPOHN

COL. JAMES H. SPRAGUE

Page 1840] -

MRS. ELIZA A. SPRAGUE

SARAH SPRAGUE

ALTHA SPURRIER

MRS. HARRIET L. STARR

WILLIAM E. STARR

Page 1841] -

ALFRED FERRIS STATES

MRS. JENNIE E. STEELE

MARCUS D. STEVENS

HAMILTON E. STEVENS

Page 1842] -

A. D. STOTTS

MRS. C. A. STRACK

THOMAS STRATTON

JARED R. STRICKLAND

Page 1843] -
aged 84 years, having one daughter, Mrs. Charles B. Charville of Norwalk, Ohio.

BENJAMIN TALLMADGE STRONG

CAROLINE SUTTON

ELIZABETH SUTTON

JOSEPH SUTTON

MARIE V. SWIFT

Page 1844] -

BENJAMIN STEPHEN TAYLOR

ELVIRA JANE TAYLOR

JAMES B. TAYLOR

MRS. HARRIET THAYER

JAMES THOMAS

Page 1845] -

OLIVER W. THOMAS

OLIVER C. TILLINGHAST

SETH H. TODD

WOODWARD H. TODD

JULIA A. TOWNSEND

Page 1847] -

JONATHAN WARD

WELTHA WARD

MARRIETT WATERMAN

POLLY WELCH

MARY ANN WESTFALL

Page 1848] -

FREDERICK C. WICKHAM

WILLIAM S. WICKHAM

WILLIAM F. WILBUR

TIMOTHY WILCOX

ALBERT C. WILLIAMS

Page 1849] -

WILLIAM H. WINANS

JEMIMA WING

AAM WYANT

MARY ELIZABETH WYCKOFF

SARAH YOUNG

Page 1849A] -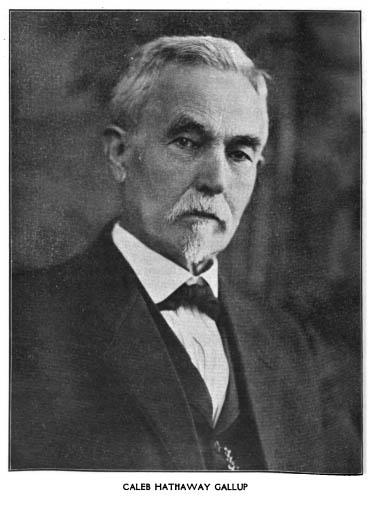 CALEB HATHAWAY GALLUP
Page 1849B] -
CALEB HATHAWAY GALLUP
Hon. Caleb Hathaway Gallup was the son of Hallet Gallup and Clarissa Gallup, and was born at Norfolk, Ohio, on the 10th day of May, 1834. He died at Norwalk, on Saturday, October 16th, 1915, in the 82nd year of his age.
Mr. Gallup was descended from English ancestry, his progenitor in direct line having been John Gallup, who came to America, from the Parish of Mosterne. County Dorset, England, in 1630, in a company of one hundred and forty persons in the ship "Mary and John," arriving at Nantasket (now Hull), Mass, May 30th, of that year.
The subject of this sketch, in his boyhood attended the public schools of Norwalk, afterwards in 1856, graduating in the scientific course from Madison University, now Colgate, at Hamilton, New York. He read law in the office of Wooster and Pennewell, in Norwalk, until the fall of 1857, when he entered the Law School of Cincinnati College, from which he graduated on the 13th of April, 1858, as Bachelor of Laws, and was admitted the same day to practice in the courts of Ohio. He at once commenced practice in Norwalk.
In July, 1859, he removed to Huron county, Michigan, where he was admitted to the Bar of that State. He practiced law successfully in Michigan until 1872, when owing to the death of his second wife, leaving young children, he returned to Norwalk, where he resumed the practice of his profession, and where he resided until his death.
While residing in Michigan, he held the office of Prosecuting Attorney of Huron County ten consecutive years, and was the Representative in the Legislature of Michigan from the same County during the years 1855 and 1867. He was also Deputy United States Marshal, during the years 1863-1865.
Mr. Gallup was twice married: to Miss Kate V. Vredenburgh, June 20, 1860, and to Miss Helen Alphenia Glover, Nov. 3rd, 1869. The former died May 25th, 1863, leaving
Page 1849C] -
a son, Richard Carroll, 19 months old. The second wife died Apr. 8th, 1872, leaving one daughter, Mabel Parker, 18 moths old, and one son, Herbert Alpheus, 4 days old.
Upon his return to Ohio from Michigan, in 1872, Mr. Gallup while resuming the practice of his profession, became at once identified with many public enterprises and took an active part in the promotion of the growth and progress of Norwalk and vicinity.
From 1873 to 1883, he assisted much in the promotion and construction of The Wheeling and Lake Erie Railroad, serving in, 1877-9 on its board of directors; in 1879 he wrote a History of Norwalk for W W. Williams' "History of Huron and Erie Counties:" in 1888, with others, he founded the financially successful Home Savings & Loan Company, of Norwalk, becoming one of its directors and its President, which offices he continued to hold until his death; in 1899 he became interested as director and as member of its executive committee, in the construction and operation of the Toledo, Fremont, and Norwalk Electric Railway, holding those positions until the sale of the road in 1901 to The Lake Shore Electric Railway Company; he became a life member of The Whittlesey Academy of Arts and Sciences in 1877, and was chosen one of its board of trustees in 1878, chairman of the board the same year, and Treasurer of the Society in 1901, all of which places of trust he continued to hold until his death; he became a life member of The Firelands Historical Society in 1876, and was from 1888 until his death a member of its board of trustees, its librarian, the curator of its museum and the editor of its publications; from 1889 until his death he was a member of The Huron County Children's House Association; and from 1902, its treasurer; from 1903, until his death, he was a member of The Young Men's Library and Reading Rooms Association of Norwalk and one of its board of trustees and executive committee during the same period; he was a member of the Norwalk Chamber of Commerce; a member of the National Geographic Society; and a member of the Ohio Archaeological and Histor-
Page 1849D] -
ical Society, being a member of its board of trustees and executive committee from Mar. 2nd, 1909."
Mr. Gallup gave all these enterprises and undertakings conscientious, enthusiastic, intelligent and untiring support and devotion; the success and efficiency of many of them being the result. He was remarkable for his ability and industry in historical research, the present highly flourishing condition of the museum of The Firelands Historical Society bearing witness to his skill and knowledge in that direction.
Hon. E. O. Randall, Secretary and Editor of The Ohio Archaeological and Historical Society, and one of Ohio's foremost and most accomplished historians, speaking of Mr. Gallup's selection as trustee of that Society, says:
"Mr. Gallup is known throughout the country for his historical scholarship and for the active and extensive work he has done in connection with The Firelands Historical Society of which he has been an influencial and official member for a number of years. He has always been an enthusiastic student of Ohio and Western History, and has written much that is interesting and accurate concerning the early settlement of the Buckeye State."
Mr. Gallup was, as a lawyer, learned in his profession and honorable in his practice. He was pre-eminently public-spirited, and passionately and untiringly devoted to the public welfare, as his connection with so many public organizations abundantly showed. In his private life and intercourse with his fellow citizens he was courteous and generous, strictly honest and upright in all his dealings and business transactions; and throughout his life represented and illustrated the highest type of manhood and citizenship. He will be long remembered for his many virtues and sterling worth.
His devotion to the interests of The Firelands Historical Society was tireless, and fruitful in its increasing growth and proserity. His death occasions a lost to the Society well-nigh irreparable.
- END OF OBITUARIES -