Hi, my name is Sharon Wick.
Welcome to the New and Improved Ohio Genealogy Website!
I have lots of data to add so if you just be a little patient... it will be on soon.
Thanks for visiting....
Sincerely, Sharon Wick

In the meantim/e,
If you would like to contribute data to this county, please email me
Thank you for Visiting and Please come back again to see if there are any updates.
A LITTLE ABOUT ......
Coshocton County is a county located in the state of Ohio, United States. As of 2000, the population was 36,655. Its county seat is Coshocton. Its name comes from the Delaware Indian language and has been translated as "union of waters" or "black bear crossing".
UPDATED 9/7/2022
Added 119 Biographies and some history.
***
SEARCH THIS COUNTY HERE:
***
RESEARCHER NOTES
Added 4/25/2015
------------
| | | | |
| --- | --- | --- | --- |
| Adams | Bakersville | Baltic | Bedford |
| Bethlehem | Blissfield | Coshocton | Franklin |
| Fresno | Jackson | Jefferson | Keene |
| Lafayette | Linton | Mill Creek | Monroe |
| Nellie | Newcastle | Oxford | Perry |
| Pike | Tiverton | Tunnel Hill | Tuscarawas |
| Virginia | Wakatonika | Washington | Warsaw |
| West Lafayette | White Eyes | | |
***
COURTHOUSE INFO:


County Courthouse
349 1/2 Main Street
Coshocton, OH 43812-1510
Phone: (740)622-1753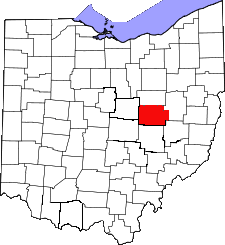 County Seat: Coshocton
Year Organized: 1811
Square Miles: 564
Dedicated to FREE GENEALOGY Research
OHIO GENEALOGY EXPRESS
This Webpage has been created by Sharon Wick exclusively for Genealogy Express ©2008
Submitters retain all copyrights